New pages 11 and 12 today! These were a doosy– worth their weight in word balloons, so I hope you enjoy. Being an art snob myself, I couldn't resist having a bit of fun at our expense, and we're nothing if not chatty and opinionated! I must say, though, that judging by Ben's expressions he may have embellished the truth a bit last issue when he told Bea that he liked art. The poor boy is in over his head!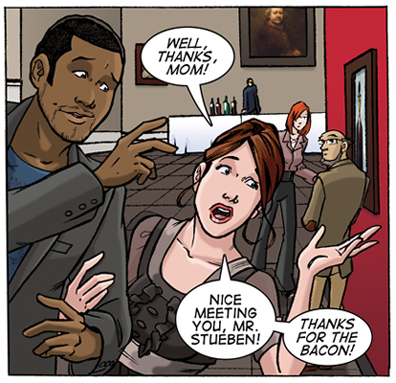 (I couldn't resist putting this panel up out of context!)
Well, these pages are just a bit of fun… for everyone but Bea's mom. Poor parents. They don't even have to say something wrong to get glared at by their teen. How my mother ever made it through my "You don't understand me!" phase I'll never know!
Anyway, enjoy the lightheartedness– all that "I'm off to save the world" stuff was getting too heavy.
Well, I updated the voting incentive. When I first wrote Issue #1, the events were to take place in late August, not September, so the opening scene in the cafeteria was originally set on a beach at Cape Cod, as the kids were enjoying one last hurrah before starting their senior year. The voting incentive this week is my concept drawing for when John walks up and Bea says, "I was in the middle of a conversation here!!"
I actually like this drawing much better than the one that made it into the comic. I think it better catches Bea's annoyance and the no-one-invited-you-here aspect to John's arrival. Oh well, c'est la vie. You can't win them all. My husband Mike has always loved this drawing, and I choose to believe that it's because it's a great drawing, not, uh, because Bea is in a swimsuit. XD