Can I just say that you guys are the most awesome fans ever.  Seriously, I was just having fun with the whole, "So we didn't win" thing and you all are so sincere and genuine in offering your sympathies!  A dozen oatmeal cookies later and I was fine, but it took us quite awhile to get Bea to stop crying.  It's all drama, drama, drama with her!  Seriously, though, we had quite a fun and rowdy time over on DeviantART this week celebrating my loss and all I have to say is that you all rock.  I'm glad you all love The Dreamer so much.  Seriously, that makes all this work worth it.  :)
So, here's your update!  New pages 13 & 14 this week, and you know what that means? We're officially more than half way through Issue #3!  This one is just flying by.  I remember how timid I was starting on Issue #1, wondering if there was any way I could actually make it through a 25 page story in a respectable timeline.  I guess I've settled that question for myself!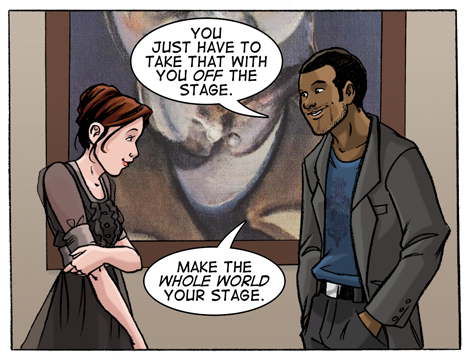 Well, Bea and Ben spend some time away from the watchful eyes of "Mom" this week, and get to know each other a little better.  And I have to give her my applause:  she makes it through two whole pages without bringing up Alan-what's-his-name.  Good girl.  Keep it up!
In serious news:  I mentioned a few weeks ago that we're sending Issues #1 and #2 off to print.  This, unfortunately, costs money!  To raise the money, we've been selling ad space in the issues, and have a few spots left:  Both full page and half page.  If you'd like to advertise in the pages of The Dreamer–your web comic or whatever else you do!–send me an email with "Advertising Space" in the subject line.  We cut prices already, so email me quick before we run out of spaces!  And I'll send you a free copy of the issues, too.  Heck, I'll sign them if you want.
Don't forget to watch John Adams on HBO on Sunday!  And I updated the voting incentive.  It's the line drawing for shirtless Alan.  You'll vote for that, won't you?  I thought so!