NewPages 16 & 17 today! You get two pages today because they are stuck together.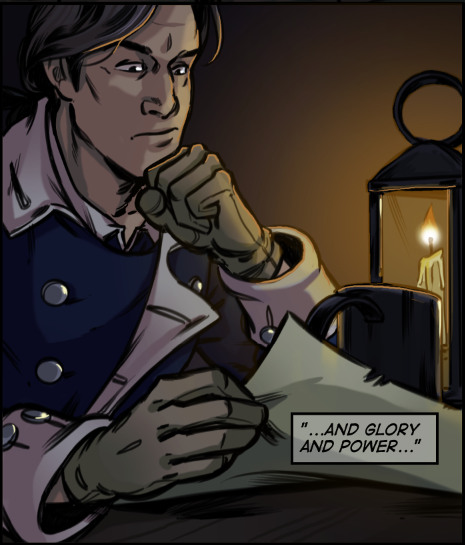 Nathan's prayer on these pages is largely taken from a prayer in a book called "The Rise and Progress of Religion in the Soul. Illustrated in a Course of Serious and Practical Addresses; with a Devout Meditation or Prayer, Added to Each Chapter," by Philip Doddridge, 1771. (By the time an 18th century author was finished naming their book, there was no need to read it…!) This was taken from the final prayer, Chapter XXX "The Christian honouring God by his dying Behavior." It really is a lovely meditation, full of all sorts of sentiments that sound strange and other-worldly to our modern ears. I love reading things from the past–they open your eyes to thinking about familiar things in new ways.
The deadline for the WACOM Challenge contest over at my podcast site Paper Wings ends this week! There is still time to enter to win one of three Intuos4 tablets–worth $400 each!
VOTE this week if you appreciated having two pages to read today!
Or VOTE to preview Friday's update as usual!
Or VOTE because my Air Conditioning unit finally died and you feel bad for me, sweltering away in my office-inferno until the end of the week when it gets repaired.

Whatever your reason, VOTE for The Dreamer!