This week's pages bring an end to Bea and Nathan's little chat, and Nathan is a chatty fellow.  I've found that lettering any page where Nathan Hale shows up takes twice as long as an ordinary page.  (I hope at least that Captain Hale has gained some new fans out there..?)  But isn't there someone else we haven't seen in awhile?  Someone Bea might be anxious to see…?  Well, I make no official promises except that next week's pages should be fun.    :)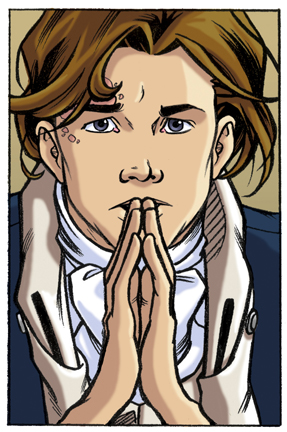 I forgot to mention last week, and I feel badly for it, that my friend Michael Motter helped color page 14.  This week he helped with page 16.   Right now I'm working on a small project for DC Comics/Vertigo, and until I finish it, Michael is helping me with coloring The Dreamer so I can *hopefully* not miss any Friday updates.
But if you like The Dreamer, and want to help me stay on schedule and *not* have to take on other projects, support us by shopping at Etsy or making a donation here at PayPal and we'll send you the cute, exclusive Dreamer Wallpaper!  If you can't donate but still love Bea and the rest of the gang, spreading the word on your blogs, to your friends, or at your own website is another great way to help!
Do this for me and I promise to work my hardest to see you here each Friday.