Guess what?  The printed version of The Dreamer Issue #3 comic book is now available for pre-order from IDW Publishing!  The order code you need for your comic shop is:  NOV084161   The two online sites I've posted before both have it listed (TFAW and Heavy Ink) and they both also have issue #1 back in stock in case you missed it! Jenny Frison is doing the variant cover for issue 3, and I've seen her roughs for it and just believe me when I say it is a lot of fun!
New Pages 18 & 19 this week!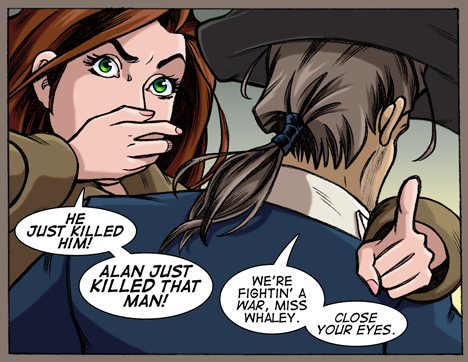 I… did not think that page 19 would take me as long as it did.  I hope you enjoy it.  It's one of the pages I'm most proud of in the entire story so far.  You can make it, Alan!  You're almost there!!
One last bit of news:  I'm looking for contact information for editors of local (U.S.) newspapers in towns that have an interest in history.  Live in a place that you think would care about The Dreamer?  I'm sending out press releases and would love to add your local paper to my list of contacts!  Just shoot me an email with PRESS CONTACT in the subject line.  To those of you who already have, thank you!
Aaaand VOTE !  I know, I know, you're all tired of voting this week I'm sure.  ;)  But there are no lines to cast this vote and when you do, you can preview the Dreamer Thansgiving Story which will be available in the next few weeks!  It tells the story of how a certain Mr. Warren and a certain Miss Whaley met back in 1772.  C'mon, you don't want to miss that, do you?!