I am really excited about this week's update: new Pages 20 & 21! In the past, the two page spreads were reduced to fit into the page viewer. As such, they lost the punch that they were intended to deliver… until now! Webmaster Mike finally fixed the problem. Now on this week's update–and all of the previous two page spreads–simply click on the text below and the page will come up full sized with all the impact that was intended. This should improve your reading experience. Enjoy!
I'll be a guest this Saturday September 18th at the Cincinnati Comics Expo. It's a brand new show, one day only, and the guest list is packed full of people I know and love. I hope you come on out to see me if you live in the area. I'll have with me all the brand new Dreamer merchandise: buttons, phone charms, magnets, dress up dolls, and stickers! I also will have a new set of prints with me, featuring some beloved super hero characters.
Speaking of conventions, is anyone planning on being at Ohayocon, Columbus Ohio's anime convention this January? I'd love to attend the show this year. If you'd like to see me there, please visit the forum and request me as a guest! Just drop a quick note with my name and a link to the Dreamer and tell them you'd love to see me there. Thanks!!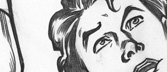 VOTE this week to see the piece I made for the Cincinnati Comics Expo to be sold at the benefit auction at the show. We were asked to do Superman in Cincinnati pieces. This was fun to draw!