New Pages 21 & 22! I cannot remember the last time I had this much fun drawing comic pages. These were a blast.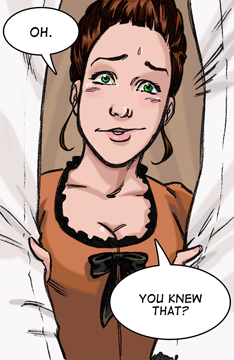 Julie did an amazing job, didn't she? She and Alan Evans deserve a hearty round of applause… he's been helping flat the pages, she's had impossible deadlines from me, topped with almost weekly conventions, and now some sort of crazy ear infection. So a hearty huzzah for Julie! She's a trooper. Next week, on account of this and C2E2, there will only be a one page update, and then come back on the 23rd for the Issue finale.
Speaking of C2E2, it's the newest Chicago Comic Convention, and it's happening next weekend. Look for me in Webcomic Alley. I'm splitting a table with Alan Evans, and I'm not sure what I'll be listed as but it's booth WC_O. I will hopefully be listed by my name, but if not, look for me at the Rival Angels table! I'll have a huge Bea banner behind me, of the graphic novel cover. Hard to miss. So stop by and say hello. I'll also be a guest on the "Do We Really Need Another Women in Comics Panel?" panel Saturday at 5:30 in room E353.
Oh, and special news today: it's my 30th birthday! You can wish me a Happy Birthday by VOTING for The Dreamer this week! (Beyond altruism, you'll also get a sneak peek at next Friday's update!) You could also buy yourself a present in my honor, something from the Dreamer Store perhaps…? :)