New Pages 22 & 23 this week!  Tempers and voices are raising…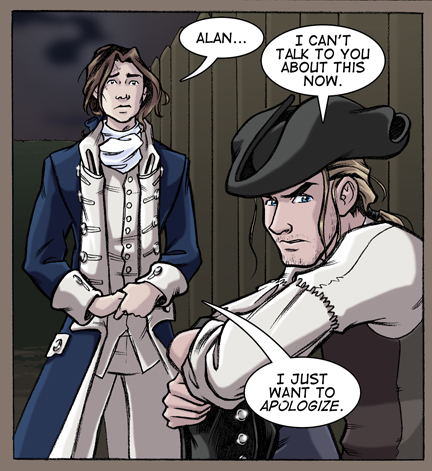 Earlier this week we posted a Frappr map.  Stick your pin in it, with a picture and show us who you are and where you live.  Put a picture of yourself with a copy of The Dreamer #1 in print, and you'll be entered into a drawing to win an autographed sketchbook with a personalized drawing of your favorite character inside.  Visit the last blog post or my MySpace profile to check it out.
Instead of the usual update next week, on account of the holiday (eat lots everyone!) I'll be releasing the Thanksgiving Short Story that I wrote!  It'll be up for sale sometime next week.  In today's update Alan reminds us that he's known Bea since she was 14.  Ever wonder how they met?  This story tells the tale!  You'll also get to meet Alan's entire family–including the famous, and now deceased, Dr. Joseph Warren.  If you love The Dreamer, you don't want to miss this important backstory!
VOTE this week to see the cover drawing for the Thanksgiving Short Story!