Before I say anything else, Fan-of-the-Year award goes to Caera who actually went on Ebay and won me Nathan Hale stamps! ha ha ha! Now if any of you would like to dethrone her, I'll just throw this out there: no one has bought me a piece of Hamilton's hair yet!
In seriousness, next week is the end of Issue #3. So only one page left, but oh what a page! I won't be exaggerating when I say that it might be my favorite Dreamer page ever. I wrote it months and months ago and it still makes me laugh. But I do love Nathan Hale, so I'm not impartial. Speaking of… New Pages 23 & 24! And guess who is back?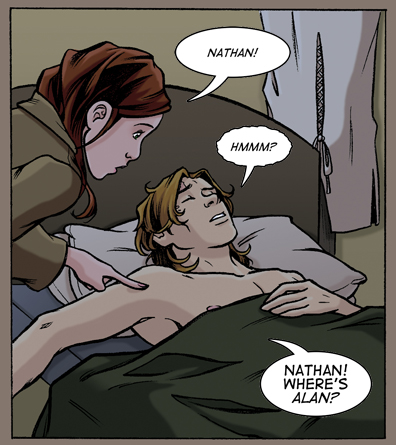 (Yeah, I think he just wants to go back to sleep.)
Vote this week to see my rough layouts for the final page 25. Consider it a sneak peek.
Do any of you know what today is? I'll give you a hint! It's April 18th.
…
C'mon, you know…! The night that Paul Revere made his infamous ride? Tomorrow is Patriot's Day! Huzzah! On April 18th, 1775, news leaked to the American leaders in Boston that the British Commander-in-Chief and Governor, General Gage, planned to take the Colonist's gunpowder from the magazine in Concord. Paul Revere (and William Dawes) rode through the countryside sounding the alarm that the British were coming–and they meant business. (They weren't just after the powder, they had warrants for the arrest of one John Hancock and one Samuel Adams!) Paul Revere was arrested and detained for several hours, but Dawes and Prescott rode on.
And as the sun came up on April 19th, the Americans not only protected and defended their powder and leaders, they actually pushed the British back to Boston where they would be bottled up for nearly a year until they retreated for New York. The infamous Lexington Green was the site of the "Shot heard round the world" and effectively the start of the Revolutionary War! It would be another year before they would declare their independence. And then five more years until the British would surrender at Yorktown. And then two more years until the ink would be placed on the Treaty of Paris which effectively ended the war. But it all started at Lexington and Concord, in the middle of the night!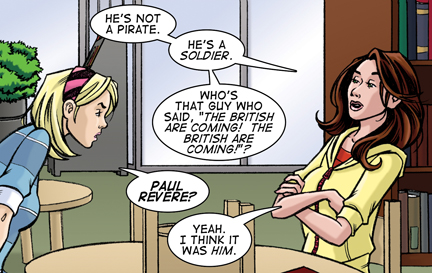 Huzzah! Happy Patriot's Day, everybody!!