This is it, the last two pages of Issue #6, Pages 25 & 26!  I hope you enjoyed this issue!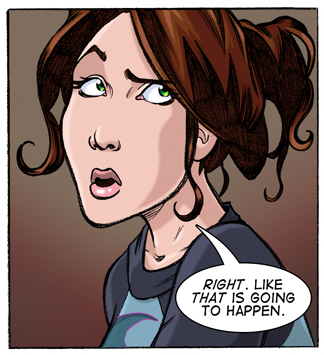 Issue #7 is going to kick things off in a different direction, which you probably can guess from the end of this issue.  There will be no regular update next week, but I'll be sure to have some sort of Dreamer goodness for you.  So check back on Friday, there will be something for your viewing pleasure (I have a few goodies up my sleeve!).  Issue #7 is going to start either on the 24th or May 1st.  We'll see how things for the Graphic Novel progress.  For right now, I'm still working on the cover and have to put the extras together in the back.  But it'll be worth it, we want to put a great book together for you all.  You've been asking for it for a long time now!
In other news, remember that if you're in the mid-west, and especially if you're in Ohio, I'll be making an appearance at the SPACE Comic Expo here in Columbus, Ohio next weekend on April 18th & 19th.  We'll have comics and prints and sketchbooks for sale!  Stop by and say hello, I'd love to meet you!  And admission is only $5!
Lastly, my birthday was yesterday!!   If you VOTE this week, you can see the best birthday card I received this year.  The things you get when people know you love history are always amusing.