New Pages 3 & 4 today!  I don't think any two more different pages have ever been juxtaposed in The Dreamer.  Enjoy: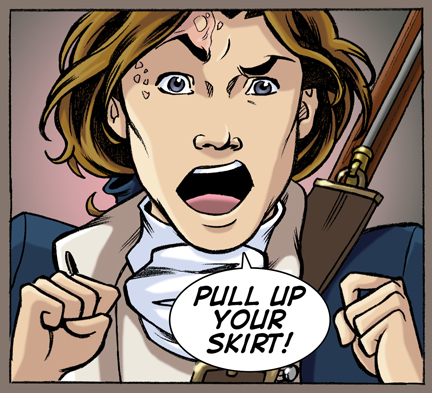 (Once you're done laughing read on…)
So, I've been running a really hard race with The Dreamer since we started over a year ago.  Yesterday I uploaded issue #1 to IDW to be printed.  I feel… very accomplished right now and also utterly and completely spent.  So after talks with a friend and my father-in-law, I decided to take their advice and give myself two weeks vacation.  I know… that sucks for all of you.  But really, it'll be a better Dreamer and a better Mike & Lora if I do this.
So no update next Friday.  I'll be in Virginia Beach with my extended family for our annual family vacation.  (My grandfather and uncle put on funny hats and ride around in tiny cars in a parade.  Then my cousins and sisters and I play frisbee in the dark… and try not to kill each other.  Or is that try to kill each other…?  I'm never quite sure.)  After that The Dreamer will be back on track until mid-October when I'm taking a second week off to take my husband to New England for a few days for his 30th birthday and to *cough*visittheNathanHaleHouse*cough*  ;)
I'm sorry to disappoint!  You know I love you all, and love all your support!
And if you didn't read yesterday's blog post, go read it.  You can now pre-order your printed copy of The Dreamer Issue #1 at your local comic shop!  Order code:  SEPT084131E  If you don't live near a comic shop, there were some great suggestions on how to get it in the comments section of yesterday's blog.
VOTE this week to see the beautiful Issue #1 variant cover painted by Jenny Frison!  (To VOTE just click on the VOTE buttons featuring Al & Nate on the top right of the homepage.)  See you in two!