New Pages 5 & 6 today! Nathan is able to finish his thought.  My apologies for the abrupt end to last week's update.  But, the wait is over!  Go find out what on earth he was getting at.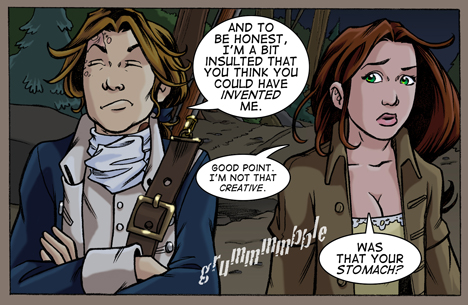 (At least Nathan doesn't think Bea is crazy… But what she thinks of him is yet to be determined.)
Who knew "cogito, ergo sum" without looking it up?  :)
This week's update highlights a common plight of the Revolutionary Soldier: hunger.  The poor soldiers were starving in 18th century, rural America which was about as close to the Garden of Eden you're likely to get this side of heaven. The British soldiers' letters home were filled with awe over the beautiful American farms, fruit trees, flowers, and over-all abundance of produce.  And yet the Contiental Army was starving.  The more you learn about it, the more interesting it gets.  Soldiers on both sides burnt farms, cut down fruit trees, and slaughtered animals to keep their enemies from getting the food.  Farmers hid what they could to keep their families alive while both armies plundered their livelihood.  The Continental dollar was a joke, as was Congress's ability to raise money to support their army.  And so the soldiers spent the better part of seven long, cold, thankless years scouring the countryside for food.
So Bea helping Nathan out is no small deal.  I think the two of them are going to be all right after all.
Next week's update is especially fun, since there's a very special cameo in it:  My great, great, great, great, great, great grandfather.  :)
* * *
Voting incentive this week is the illustrated cover to a short story I wrote about Nathan Hale, which tells the story of how he went from School Teacher to Army Officer. It also sheds light on his love life. My favorite thing about this story is that it's all true–I was able to actually put all my Nathan Hale trivia to use. Look for it next week, when it'll be available to download. But for now VOTE to see the cover!
If you didn't read my blog earlier this week, Issue #3 of The Dreamer is now available for download at WOWIO!  It contains the script to the first eight pages of that issue, with all my edits and everything.  Remember, everytime you download The Dreamer, I make money even though it costs you nothing!  So we both win.