You all can stop holding your breath. Today we find out what Nathan was up to. New Pages 9 & 10! Enjoy!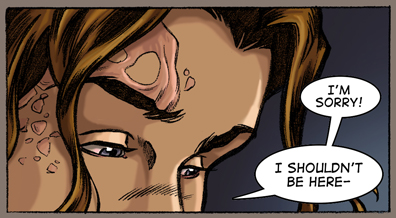 Looks like maybe Alan got the wrong idea. Or he's just surprised to see Nathan there. Or to find Bea awake. Or to find them so chummy with each other. Guess we'll have to wait to find out. In any event, what Alan doesn't realize is that Bea deserves to have Nathan walk in on her while she's only half dressed and sleeping.
History tidbit about the real Captain Hale: Elisha Bostwick, a Captain who served with Nathan wrote this about him after his death, "[Hale] was undoubtedly Pious; for it was remarked that when any of the soldiers of his company were sick he always visited them & usually prayed for & with them in their sickness." I figured… after everything Bea's been through, and has told him, he'd probably offer up a few prayers for her. If for no other reason then to alleviate his guilty conscience. (Or the fact that she believes she's a time traveller from the future!)
Since Tuesday was a significant date in the life of Nathan Hale, I created a commemorative wallpaper for him! Details are in the previous blog entry, or on the Store Page. For any sized donation, all this Nathan Hale loveliness can be yours: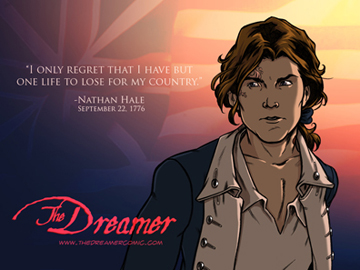 I had too much going on with the wedding last week to get ahead on my work, so I don't have any new material for the voting incentive this week. But please, feel free to still VOTE just because you love the comic! :) See you next Friday!