Some of you have been asking for awhile now whether Bea is going to sleep through her date. Well, stop reading this and go find out! These pages were fun just because they have color. (All that rain was depressing me!)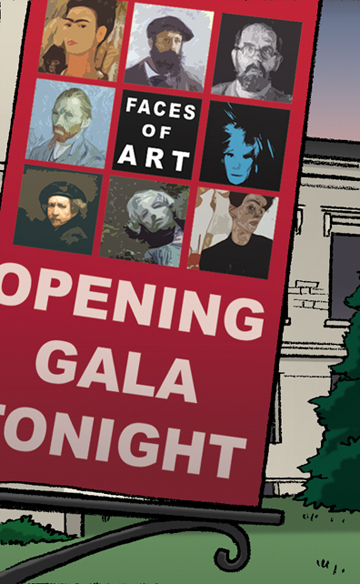 Over at Drunk Duck, I've done a number of contests where I ask a trivia question about some historical fact that pertains to that day's update. The winner gets a free copy of The Dreamer Teaser Comic. I realized that I haven't done a contest here on the main site (my bad!) so I'm going to remedy my error. Contest! The first person to identify the artist of each self portrait in the above banner wins! We'll see who was paying attention in Art History class…!
Well, things are crazy busy but exciting over here at Dreamer HQ. Mike and I have our hands full trying to get a few things ready for you in the next few months. I thought I'd give you a taste:
-The Dreamer will soon be available for download on WOWIO. More details to come!
-We're also prepping Issues #1 & #2 for the printers… which will include a brand new Issue #1 cover!
-A friend of mine who works for Disney is painting the cover to Issue #4. I could show you the sketch, but I'll make you wait. Take it from me, it's going to be beautiful.
-Finally, I've been working with a writer to release the first ever official Dreamer fiction. This story will contain illustrations by yours truly, and tells the tale of a secret mission that Knowlton's Rangers were sent on two months before the events in The Dreamer take place. I've scripted most of it already and if you like our boys in blue, you'll love this.
-New voting incentive today! Vote for The Dreamer to see a character sketch of Sarah Mulligan-Whaley. You know… Bea's mom.
Lots on the horizon! But for now, enjoy today's update. So will Bea sleep through her date…? The wait is finally over!