So at SPACE last weekend Bob Hickey (of Blue Line Pro/Comics 2 Games) hired me to do a pinup of my characters to hang in the gallery at his comic book shop.  Seriously??  Best job ever!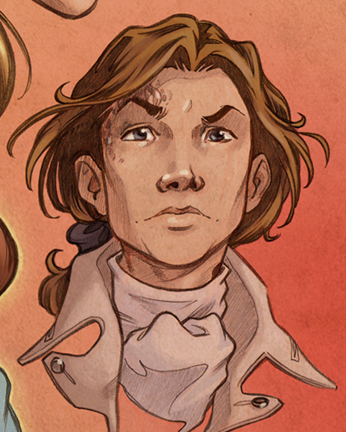 (Click here for the original pencils, and here for the colored final.)
So as promised, here's something new for you on Friday.  I actually have a new short story written which I had planned on putting up for sale today until… Mike came down with an "Ocular Migrane."  I don't know what it means, but he was seeing freaky things and Asha says it is from being on the computer too much.  Enough said, I made him take the night off!  Apologies!!  But you'll have to wait till next Friday to get the new short story.  (Believe me, it's worth the wait!) 
And speaking of Comics 2 Games, I'm going to be signing there, on May 2nd for Free Comic Book Day!  Free Comic Book Day is a national event, but if you happen to be near the Florence, KY/Cincinnati, OH area, please stop by to say hello!  I'd love to meet you, and it's guaranteed to be an awesome event!
And VOTE this week if you want to preview that Frederick Short Story I was telling you about.  I posted the cover as the new voting incentive!