Thanks for coming back for our special mini-comic side story! And a huge thanks to Alan Evans, for taking time from his impeccable Rival Angels schedule to draw this story for all of you. (He's never missed an update, 3 days a week, for over 500 pages!!)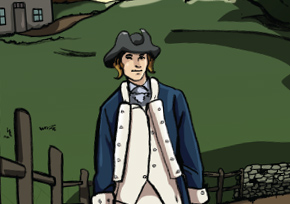 I had this story written for a long time before Alan E. asked if there was a Dreamer project he could help out on. It was a great fit!
As for me, I've been working hard on launching the new Paper Wings Podcast where I'm a co-host. If you're any sort of creative storyteller, go check it out! The first series has been about Portfolios and Pitching. But we're moving on soon to bigger, better and broader topics very soon. We're also giving away 3 Wacom  Intous4 Tablets as the prizes for our first big contest! Subscribe to the Paper Wings newsletter today to get all of the details on the contest first!
Other than that… happy Patriots Day! If… such a day can be happy. The battles of Lexington and Concord were fought on this day in 1775, kicking off the start of the Revolutionary War. As a matter of fact, the Nathan Hale short story for sale in the Dreamer Store is all about this day in history. You can read about my own trip to Lexington and Concord in an old blog post here. A hearty hip, hip, huzzah to all the men who showed up to fight that day, including our own favorite patriot here at The Dreamer, Dr. Joseph Warren. We still remember!
VOTE to preview Friday's update!