Thanksgiving is this week and we're traveling to see my grandmother in the Pennsylvanian mountains where you don't get cell phone reception– much less an internet connection. So you're getting BOTH of this week's updates today! (I figure this will make you happy since today's update was just the title page anyway.) So you get title page AND page #1!
The horrible wait is over! Let's dive right into Issue #14. Over 50 pages long, this is a really special issue– the first ever "Double Sized" Dreamer issue! I'm optimistic that you guys are going to love it! I mean, look at this face: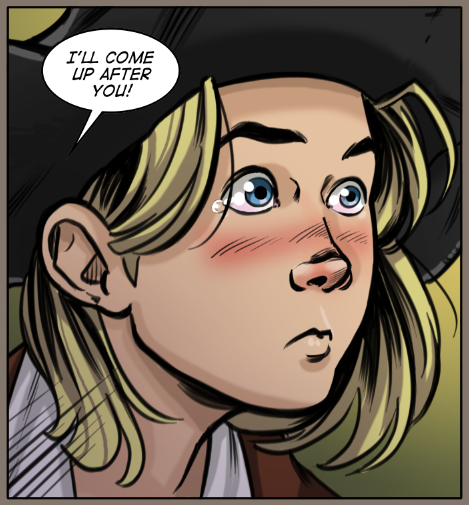 Thanksgiving is a very special time of year in the Dreamerverse. If you've read the short story "A Most Agreeable Thanksgiving," you'll know that it was at a Warren-family Thanksgiving dinner where Bea and Alan first got to know each other. (You also might recognize this particular tree from today's update if you've already read it…!)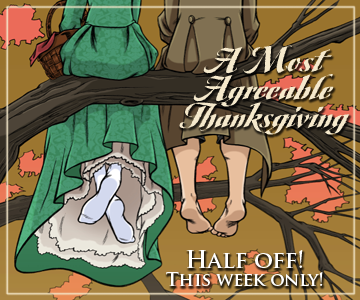 In honor of Thanksgiving, you can buy the story for half off this week only! I can't think of a more adorable way to get your Dreamer fix on Thursday!
And you can VOTE to read the first page of "A Most Agreeable Thanksgiving"!

One more thing–I posted the rules to FanArtPolloza 2012 in the last blog post! That's right–we're kicking it off again! This year's theme is Graphic Novel Volume 2 Challenge! All entries are due on December 21st! Dreamer FanArtPollooza is NOT a fan art contest limited to folks who can draw. All kinds of creativity are welcome! Read the full rules here!