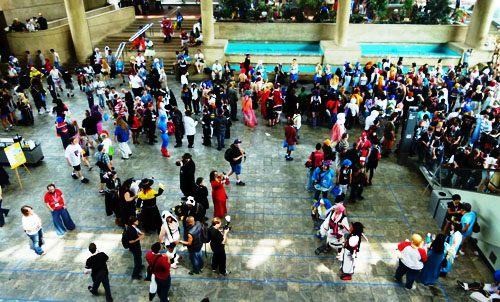 Well, Otakon 2012 has come and gone. I can make the following statement with confidence: best convention ever.
I say that from a sales point of view, but also from a good times perspective. Read on to see if you agree…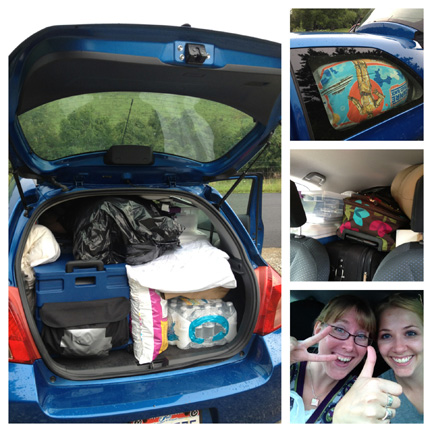 Thursday I drove back home to Pittsburgh to pick up my best friend in the whole world, fellow podcaster, Linda Kelso. There wasn't much room left in my little Yaris, but we made it all fit!
From there we made the trek down to Baltimore, driving in non-stop thunderstorms the entire time. Who needs headlights in a four-hour lightning storm?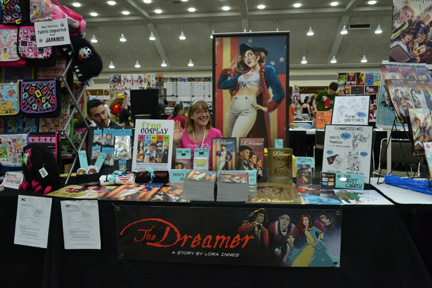 The show had an easy schedule on Friday: doors didn't open until two, which gave us time to check in, set up, and have a cup of coffee. The Dreamer table has never looked better!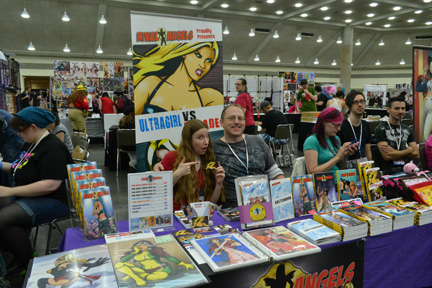 We had an entire row to just me and my friends. Alan Evans took the endcap with his comic Rival Angels. His wife Tracie was able to make this show, which was a special treat for all of us. Having her at a show with you is like having a cheerleader on the sidelines just incase you start to feel low. Love these guys!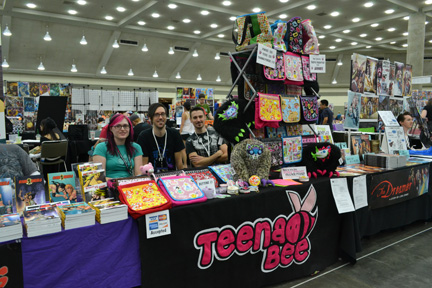 To make this show even more special, my lil sis Tina and her husband Shaun and his brother Tim all came. The Artists Alley at anime shows is not limited to comics. There are lots of handmade items sold at a convention like this, and Tina brought her line of Teena Bee handbags made from imported Japanese fabrics. She's so crazy talented!
Tina and I ran a Cosplay BINGO contest from our booths. People who brought a completed bingo card back to our table were entered into a raffle to win a Dreamer book or one of her bags.
Anime shows go late. Otakon's Artist Alley didn't close till 11 PM. By the end of the day, we needed a pickmeup. Linda returned with not just dinner, but cupcakes!
We all rented a townhouse together in walking distance of the convention center. On our way back after the show we couldn't help but notice an impromptu lightsaber battle. Because why not?
We had to walk past the Oriole's stadium to get to where we were staying. Friday night they must've won because there was a grand fireworks show!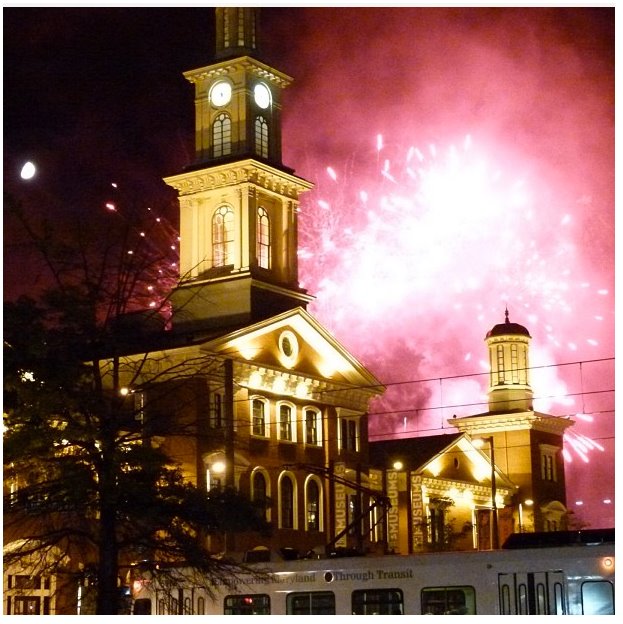 Linda is a master gardner at PSU. She jumped at the chance to make us breakfasts and lunches. Here she is, apron on, prepping sandwiches for our lunches before we headed out to the convention center on Saturday.
Otakon is notoriously cold. So much so that there is a warning about the subarctic temperatures when you register. Tina is a seamstress, so she took it upon herself to make us fleece hoodies. But you know, who wants a boring old hood when you can wear a friend on your head?
I always love meeting Dreamers at these conventions. But I was especially excited because I knew that long time Dreamer-Advocate Sean McGuire was going to be there. He's a Barnes & Nobel bookseller who makes it his mission to introduce as many customers as he can to my graphic novel. He was every bit as special in real life as I thought he'd be.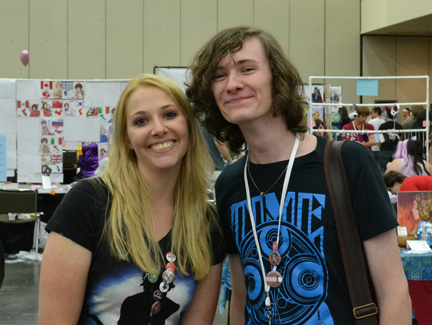 The last set of friends in our row were Adam Withers and Comfort Love. Here, Adam is threatening me with both eyes. It is working.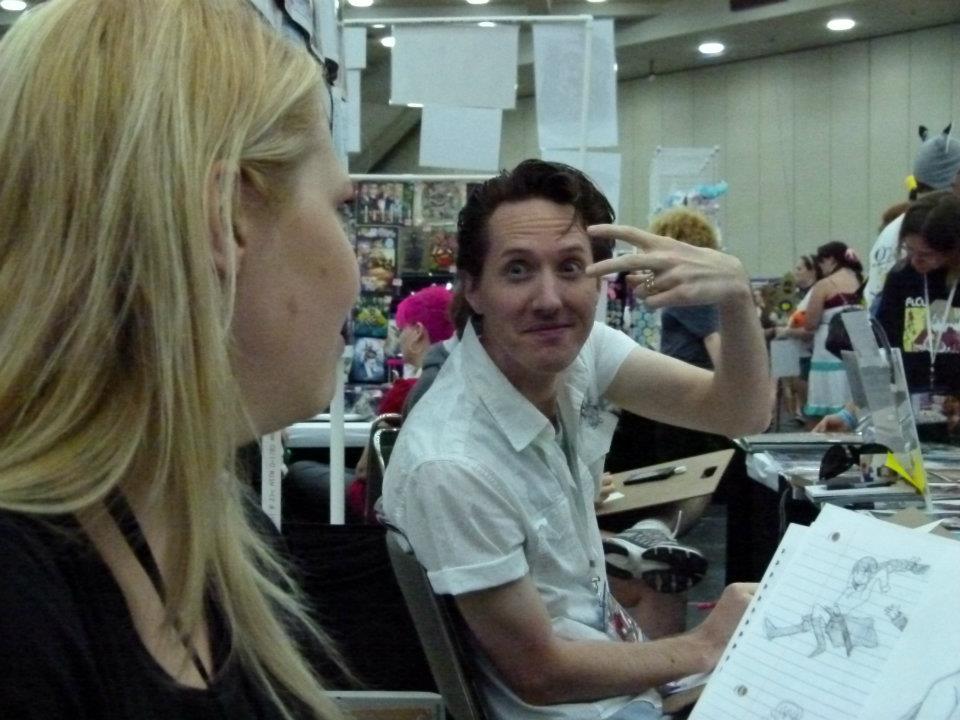 Saturday was a long day. The Alley was open for thirteen hours: from 10 AM to 11 PM. By the time we made it back to our townhouse we had only enough energy for ice cream.
It's sort of a tradition of mine to take my friends to Jeni's Ice Creams when they're in Columbus. Since I was driving not flying to Baltimore, I decided to treat the gang to some pints. Tracie, Al, Linda and I got four spoons, two pints, and made short work of the best ice cream on earth!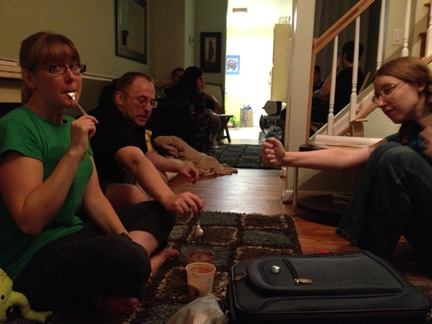 Linda had brought some fancy-pants smoked tea that she was too afraid to drink herself. Apparently she thought we were suckers, and apparently she was right. It smelled like a fireplace anytime you took the lid off and once you brewed it, well, it tasted like this:
The rental property's landlord had a sense of humor. All over the place he left printed instructions for us. This one, above the toilet, was our favorite:
Day three was only a four hour day at the show, but strangely enough, it was my highest grossing sales day! Everyone knew they only had a little time to make their purchases and all hesitation was gone!
These kind folks brought around donuts. Sprinkled donuts.
I took a bunch of commissions online before the show. I was only able to finish half of them there. This one of Nightcrawler was my favorite:
Julie Wright, The Dreamer's colorist, was also at this show! She did killer, but she always does!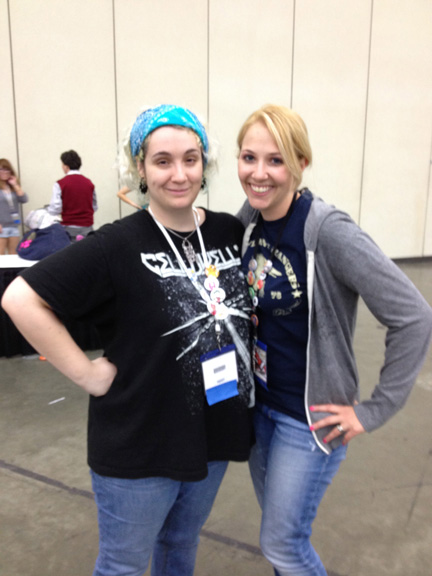 Around the fourth of July someone sent me a link to this fabric. Abercrombie & Fitch meets the American Revolution. Just the preview online made me feel dirty. Imagine my surprise when I the girl who had first showed me the fabric online was not only there, but she had found someone in the Alley using it as their table covering!
Moving along… Tina is a big fan of Adventure Time and got this stuffed Granny Tree Trunks plushy. Tree Trunks became our mascot for the weekend.
The sillies eventually set in at any show, but at an anime show, it's three days of sleepover giggles on crack. Linda models the Pikachu hoodie, then realizes the camera was on:
Strange things happen at an anime show. Being 'liked,' for instance! This happened randomly to Shaun during a trip to the dealers room: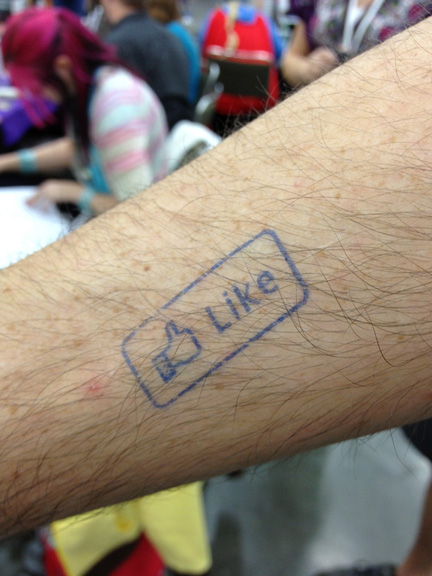 You can't spend three days someplace as creative as Artists Alley and not come home with some new treasures. Big Macintosh may or may not be my favorite pony, because he may or may not be a blond-haired, cider-making farm boy with a green Warren Russet cutie mark on his butt. Sound familiar?!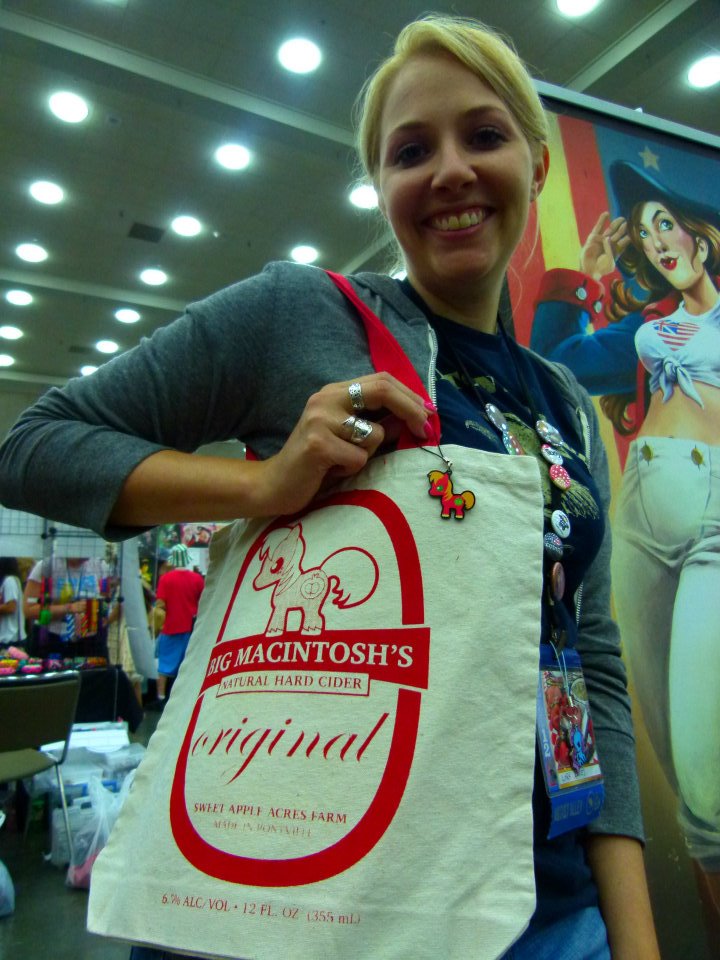 Of course, the real fun at an anime show is people watching. Cosplay is better than halloween! 32,000 people were at this show and probably at least 16,000 of them were in costume.
On Sunday we drew two winners for our cosplay bingo contest. Here is the winner of The Dreamer Volume 1!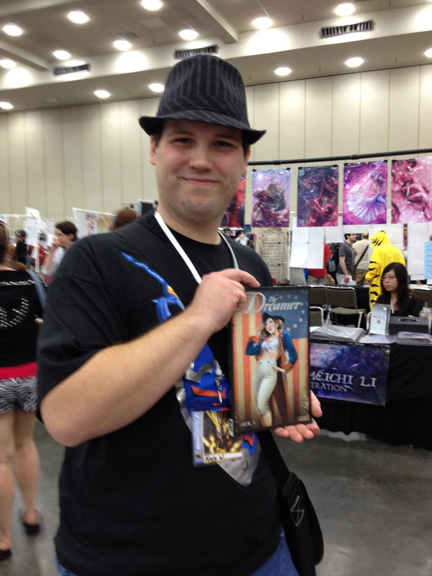 Here was the gang minutes after the alley closed. Whew, we made it!
Years ago at a Baltimore Comic Con, CBR reporter Steve Sunu introduced me to a little dive called Paper Moon Diner a short drive from the Convention Center.
It's a hipster dive that has every square inch of its walls covered in bizarre toys. The food isn't bad either. It's become a tradition of mine to close every Baltimore Convention with a trip to Paper Moon Diner.
This year Comfort & Adam came with us. After our weekend at Otakon, this place felt normal!
Otakon 2012 was a huge success. You better believe we're making plans already for next year!