I've been back from Otakon for a few days, but I think I'm still recovering! We checked in after 10 PM the first night, and Artist Alley stayed open until midnight Friday and Saturday. It was quite a show, I've never done anything like it. The best I can describe it is a 25,000 person, three-day sleepover! If that sounds like fun, come on out next year–I know I'll be back!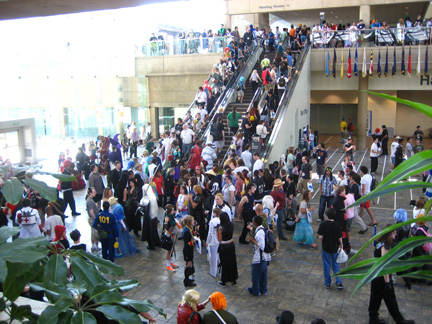 Throngs of attendees crowded both lobbies at the convention center Saturday morning, eagerly waiting to sign in.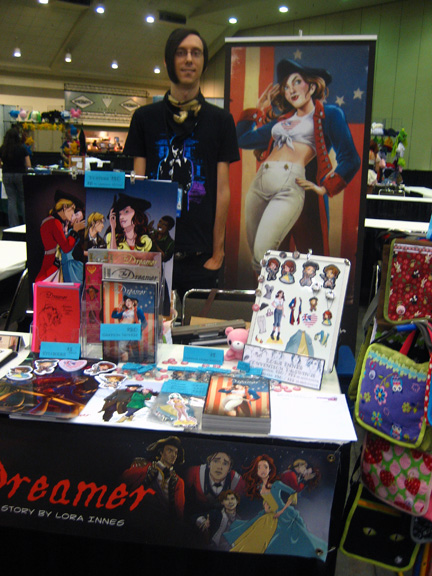 Here was our table, and Shaun my brother-in-law who was a huge help all weekend.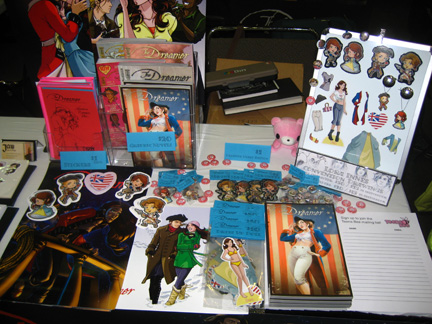 Dreamer stuffs to buy! Stickers, charms, buttons, magnets, posters, books!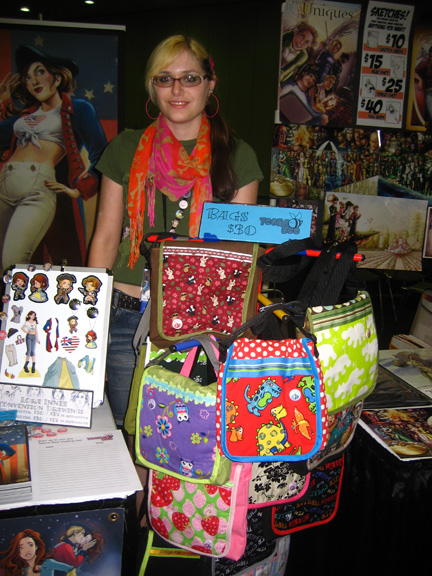 And my sister with her handmade "Teena Bee" bags!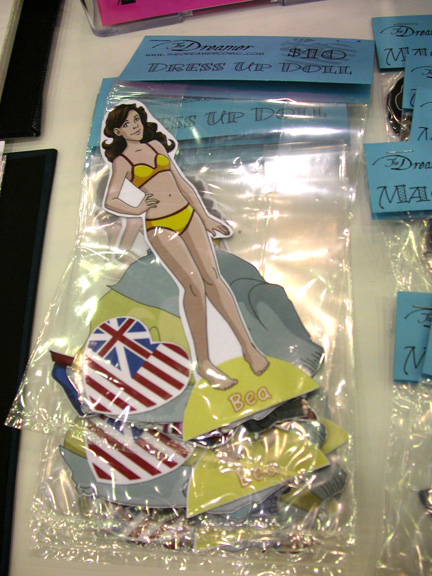 Magnetic Bea dress up doll sets!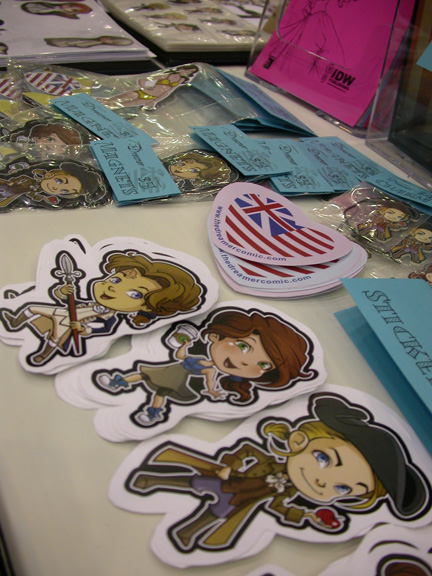 And look at the cute! Chibi stickers, charms and magnet sets! Spontoon!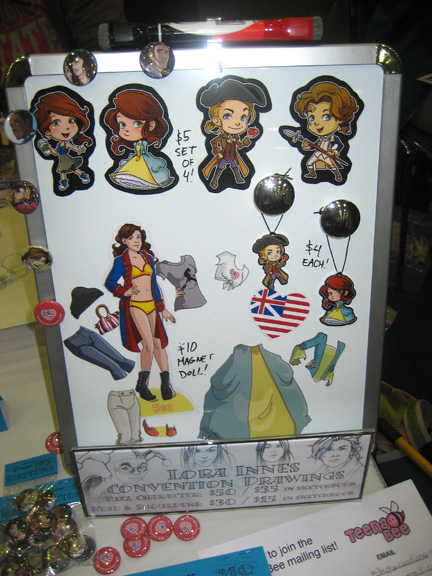 It's impossible to talk about Otakon without talking about the cosplay. I can safely say that half the attendees were dressed up. So of course you were bound to run into your favorite characters throughout the weekend. A few of my favs?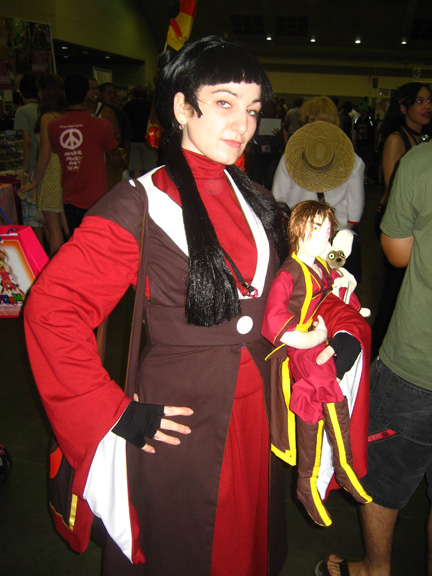 Mai with stuffed Zuko doll!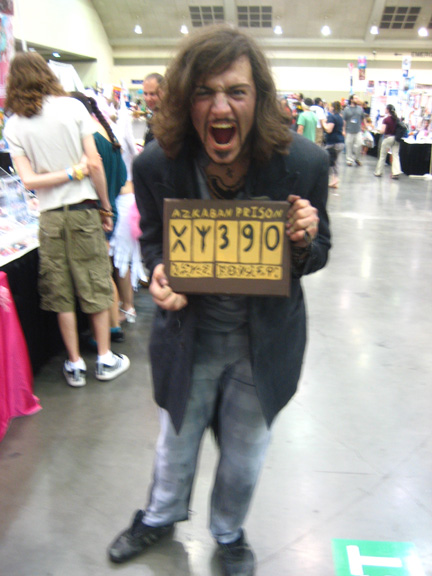 Sirius Black!
Van from Escaflowne!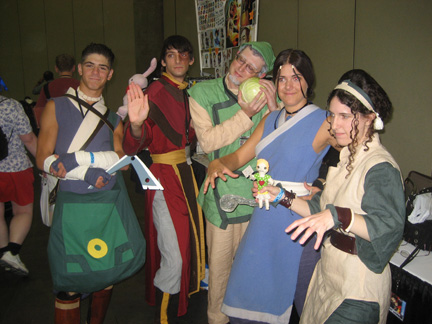 This was a superb Avatar lineup. My cabbages!
There were events and panels and signings going on all weekend, but I spent most of my time at the table selling things and meeting Dreamer readers (and a few avid fan girls)! I did leave my booth Sunday morning for a fashion show, by a famous Japanese designer H. Naoto.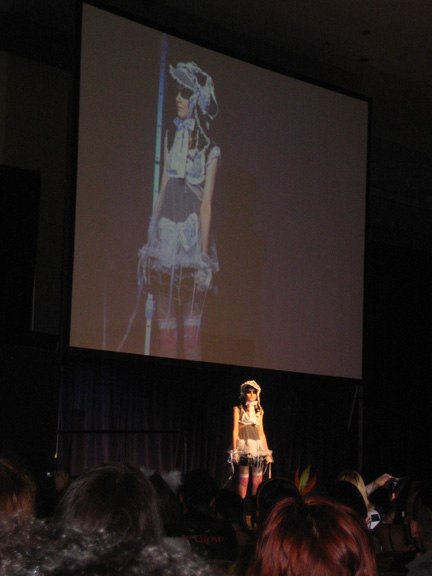 All the models were Otakon attendees, which must have been a lot of fun for them! Later, I was at his booth in the exhibitor's hall, where we actually ran into him. He was trying to sell one of his dresses to my sister, lol. We thought he would've had someone else do that for him, but he seemed to enjoy interacting with his American fans.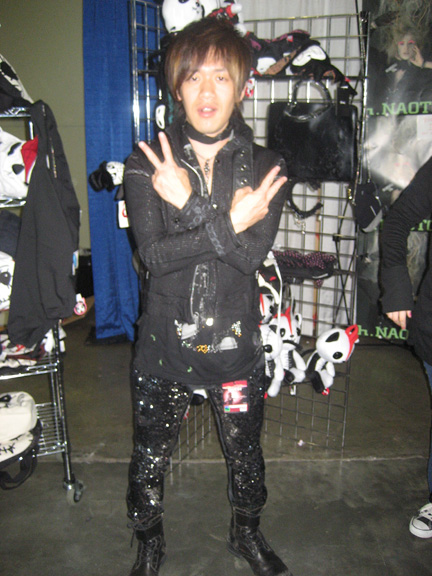 As always, I worked on commissions throughout the weekend. Here's me working on a Poison Ivy drawing.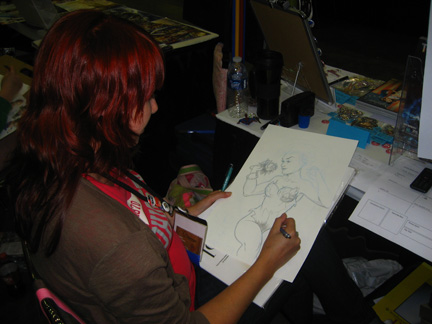 I shared my table space with Dreamer colorist Julie Wright! Here she is half dressed up as Prussia. She made a killing selling Hetalia stickers, magnets and charms all weekend.
Hetalia fan girls sometimes three and four deep pushed in to flip through her book of samples. I didn't mind because they often flipped through a copy of The Dreamer while they waited. ;)
Poor Julie is only half dressed here (she had the whole get up, it was quite impressive) but she fell and twisted her ankle and got a pretty nasty bruise on her knee. She was a trooper, she roughed out the rest of the weekend.
On the other side of my table were Comfort Love and Adam Withers, creators of The Uniques and Rainbow in the Dark. (Remember the piece I did of young Kid Quick for The Uniques Tales?)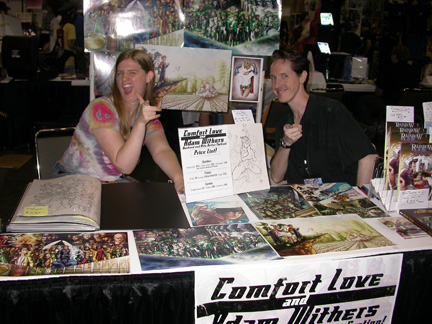 Comfort and Adam were kind enough to take me under their wing all weekend. And I was lucky to get table space next to them. I learned a lot about anime shows and conventions in general from them. They do about 15-20 of them a year. Makes my 5 – 7 look weak!
The night before the show even started, we saw so many cosplayers in the street  that we decided to play a game: Cosplay Bingo! We created a Bingo sheet and filled it in with all the characters we hoped to see. And tried not to pick anyone too easy, for instance, instead of Cloud or Sephiroth from FFVII, we put down Red XIII. We still found him though!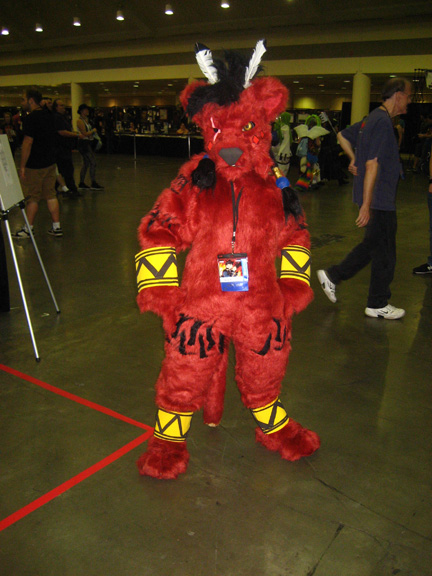 Along with Red, here are the five that ultimately won us Bingo!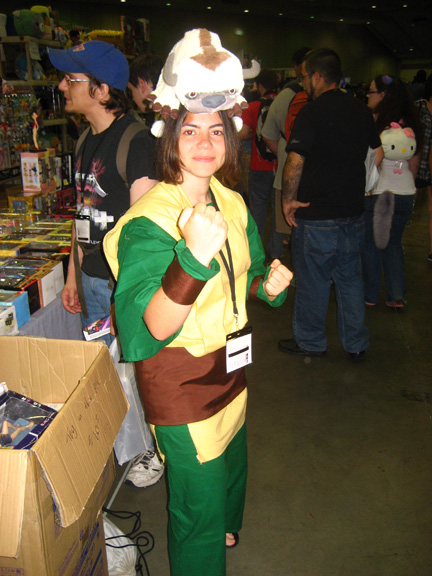 Toph from Avatar (with Appa on her head)! Who knew she'd be the most popular character to cosplay? We saw her everywhere!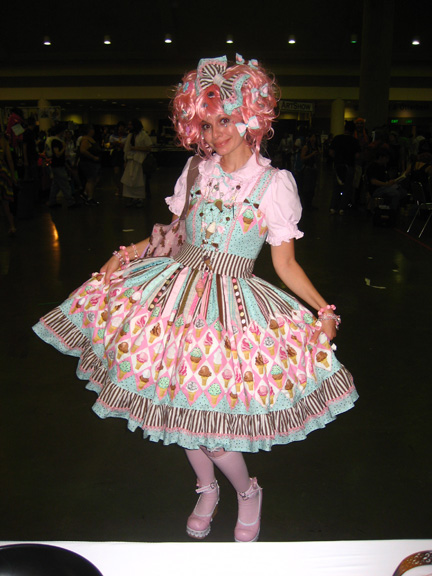 A cupcake Lolita costume.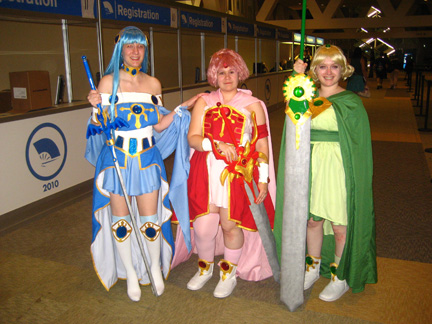 Three Magic Knights!
Aaaand, the costume that strolled by about 11:30 pm Saturday night that got our win, Soul from Soul Eater!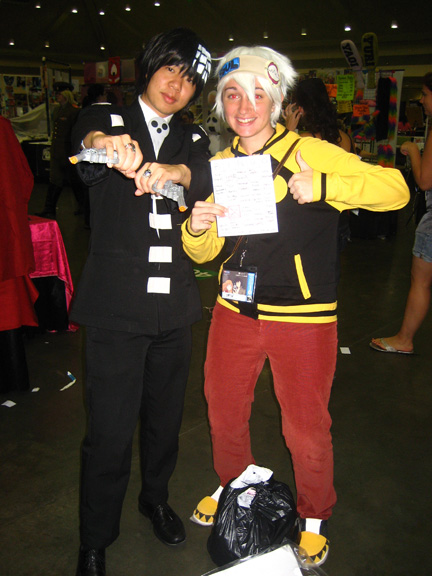 (S)he was nice enough to pose with our winning bingo card!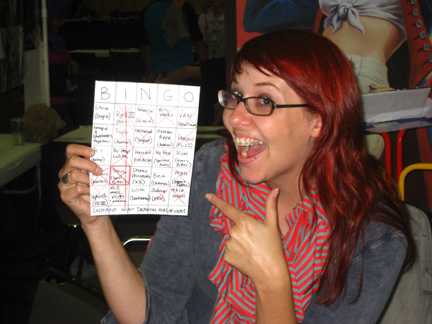 I was so slap happy that we'd won! Or I was slap happy because it was midnight and I hadn't slept in three days. Or slap happy because earlier that day someone had pulled the fire alarm! And thousands and thousands of cosplayers took to the streets of Baltimore.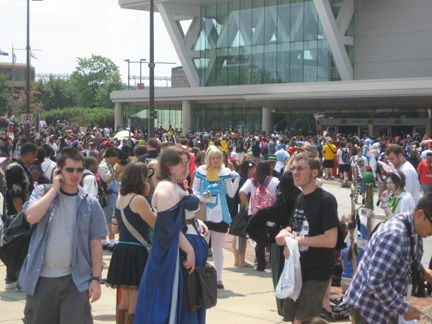 Someone must have thought that was funny, but it took several hours to get everyone back in and the show running again.
We wrapped up the weekend with a late lunch at the Paper Moon Diner after the show closed on Sunday. It's sort of a tradition that comic reporter Steve Sunu started for me several years ago at Baltimore Con. This year Comfort and Adam came with me.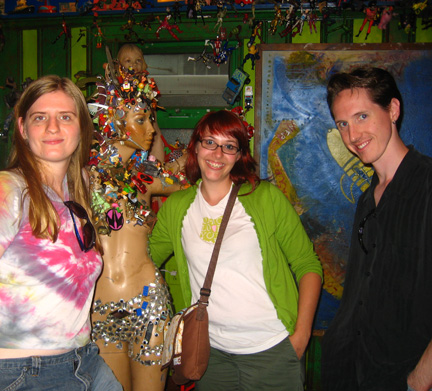 It was lovely to meet so many of you this weekend. I enjoyed talking to all of you!
Thanks for the good times, Otakon 2010! See you next year!