Some of you have been asking for individual character wallpapers, well, with the wedding finally over and my life (hopefully!) calming down, I took some time yesterday to do a brand new, limited time only, Nathan Hale wallpaper for you all!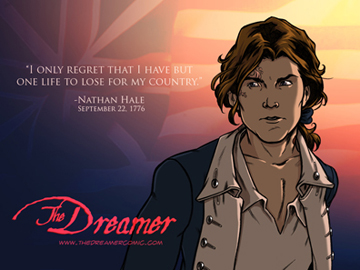 When I was finishing this up last night, Mike walked in, took one look and said, "Oh, the Nathan girls are going to love that!" I had fun working on this one… It's been awhile since I've drawn my characters for fun, and not just in the pages of the story. I put this on my own computer last night, and I have to admit, it's lovely.
The awesome thing about this Nathan Wallpaper is that you get to name your price! Just head over to The Dreamer Store page, and leave us any sized donation, and he's yours to keep- in three different screen sizes! (Instructions on downloading are on the Store Page, read carefully before you buy, so you don't miss the link!)
The Dreamer doesn't bring Mike & I a profit. We do it because I love and, well, because you love it. Not even the print comic books have brought us any income. So your donations here on the site are the only dollars helping me pay for things like the paper and pencils, computer repairs, conventions fees, PR & marketing, and other maintenance things that come with running your own business. So if you enjoy The Dreamer, and love Nathan Hale, consider making a donation and helping us out. Thanks!