While I was in Boston, I went to Forrest Hills Cemetery to visit Dr. Joseph Warren at his gravesite. I knew that he was buried in his family's plot, so I was excited to see who else I'd find there. Thanks to The Dreamer, I feel in some strange way like I know these people. Dr. Warren may be my favorite patriot, but I've grown interested in his entire family.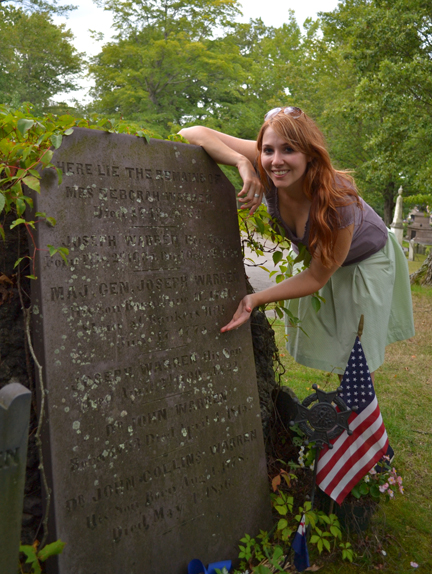 Dr. Warren was one of the most influential men of the American Revolution, but he died at Bunker Hill–just at the start of the war–and sadly most Americans have no idea who he was. My hope with The Dreamer has been to bring him back into the consciousness of the people I have influence with through my story. Alan Warren may be a fictitious character, but the rest of the Warrens you read about in The Dreamer were all real. (Two of the Dreamer short stories feature the Roxbury Warrens.)
Dr. Joseph Warren actually has had several "final" resting places.  When he was killed (shot in the face) at Bunker Hill a british officer "stuffed the scoundrell with another Rebel into one hole, and there he & his seditious principles may remain." He did remain there, for about a year, at which point, after the British evacuated Boston, Paul Revere and Joseph's two brothers Ebenezer and Dr. John Warren dug up his remains, identified them (by the false teeth Revere had put in himself), and reburied him in the Granary Burial Ground. He was moved from there to St. Paul's, and then finally his family moved him to this lovely spot. The grave is at the top of a hill, lush, quiet and peaceful, not at all like the muddy, loud, touristy Granary Burial Ground.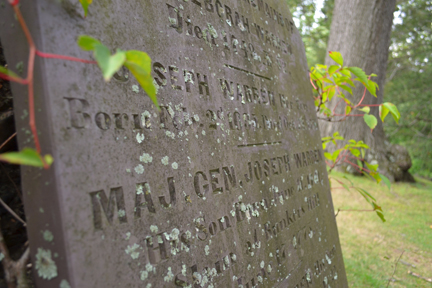 Also on the site were his grandparents as well as his father Joseph Warren II who developed the Warren Russet apple (known today as the Roxbury Russet), and died when his son Joseph was 14. He fell out of one of his apple trees, broke his neck, and little John Warren, only two years old, found him there.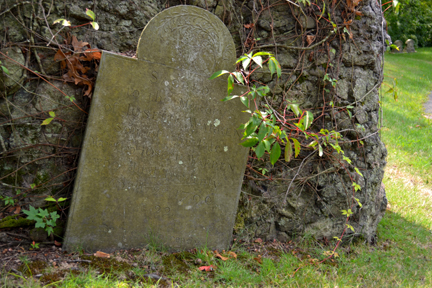 Above is one of several markers around the site for Joseph Warren IV, Dr. Warren's oldest son, known as "Jose" who only lived to be 22. He never married or had kids. Sentimental, yes, but I was glad to see him there with his father (since no one knows where his mother is buried). It says "Sacred to the memory of Joseph Warren son of Maj Gen Joseph Warren who died suddenly April 2, 1799 aged 22 Be ye also ready".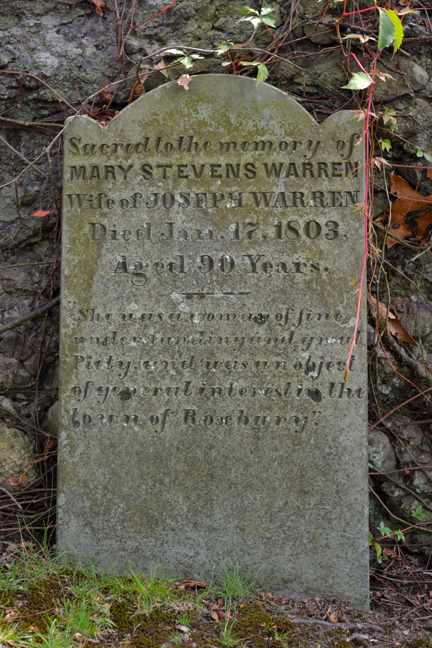 Mary Stevens Warren, Joseph's mother (better known as "Aunt Mary" in the Dreamer) had a wonderful description on her headstone. It reads, "She was a woman of fine understanding great Piety, and was an object of general interest in the town of Roxbury." I'm sure she was. She was the granddaughter of Robert Calef, the man who stood out against Cotton Mather in the Salem Witch Trials. After her husband died tragically she continued to run the farm on her own, a bit ahead of her times, and never remarried. And of course, she was the mother of a our favorite Bunker Hill hero, Joseph Warren III.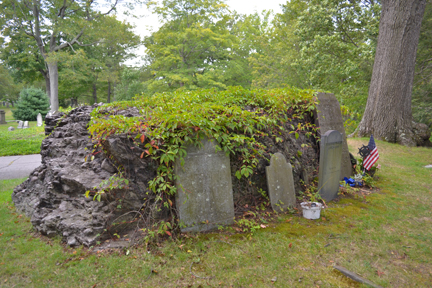 Another of Mary Warren's sons, Dr. John Warren was buried there as well. He studied under his big brother Joseph while he was a student at Harvard, learning how to be a doctor. He served in the army as a surgeon after his brother was killed at Bunker Hill, and he headed up the military hospital during the New York campaign. Eventually he founded Harvard Medical School. There is more to be said about Dr. John Warren, but you'll either have keep reading The Dreamer or do your own research.
John's son, Dr. John Collins Warren, was also buried there, as well as his descendants–right up through 2011.
Next up: The Freedom Trail! If you watch me on Twitter, you already saw the sneak peek.