Coins in Revolutionary America
Blog submission by Sam Forman to Lora Innes' The Dreamer
PART 2:
Bea, here is a quick mastery question for you: How many half pence coppers was in that bag of 20 shillings worth that Joseph Warren secretly slipped to his associate in March of 1775? If each coin was the size and weight of a modern American quarter, how much did that bag weigh? A quarter weighs 0.2 ounces or 5.67 grams. A (half)penny for your thoughts.
Exceptions crept in to make things confusing to all but the most meticulous merchants. Over time the value of gold in the coins fluctuated relative to silver in shillings. So a guinea might be worth much more than twenty shillings at times. Newer coins might be based on a different weight standard in precious metals than an earlier issue. Astute business people were more attuned to the weight of precious metal in the coin than whatever might be written on the coin's inscription. Did I mention that Massachusetts provincial Pounds, Shillings and Pence traded at a 20% discount to their British Sterling counterparts just prior to the Revolution?
Older coins were often hammered in the minting, a production method resulting in irregular shapes and flattened edges. This was tempting to the unscrupulous, who would shave the edges of gold and silver coins. They would pass their defaced coins at full value and sell the shavings for valuable scrap. One could get hung for such an offense, but getting apprehended was nigh impossible. If caught with a shaved coin, one could claim to be the victim rather than the perpetrator of the crime.
Sir Isaac Newton, between apples raining upon him and gravity demanding to be characterized, set his mind to this vexing problem. His solution was to mechanize the coining process in such a way that a collar shaped the stamped metal into vertical grooves or lettering on the edge. The thieves were defeated – relative to his more recently coined British gold coins and those of some other copycat countries. Run your finger over the reeded edge of a modern American quarter and thank Sir Isaac.
But a multiplicity of coins still circulated. The way to assure full value was to weigh them, comparing actual to expected weights of silver and especially gold coins of each country. Here is an example of a coin scale used by colonial merchants and bankers who wanted to avoid being cheated by underweight coins.
There were a few subsequent failed attempts following the New England issues dated 1652 for a coinage specific for the British colonies or for particular provinces. These excite modern collectors, but merely added to the monetary confusion of the time. The Rosa Americana coinage was attempted during the 1720s. That is not a particularly plain 'Rosa' of the obverse, but rather George II. The rose is a metaphorical depiction of America as a flower on the reverse. Neither these coins nor their imagery gained any traction in Early America. Like other miscellaneous issues described here, the random specimen may have circulated for a very long time for the want of plentiful, standardized, and universally accepted alternatives. Alan, Bea, and their 18th century friends rarely might have encountered such curiosities in change.
Filling in the paucity of English money were foreign coins. Spanish silver coins were well known, common, and widely accepted. The Spanish pillar dollar came in to American ports by way of international trade. Its edges were milled and therefore immune to shaving. Weight had been standardized since the 1730s, so an exchange rate with British Pound Sterling could be set up with confidence and adjusted periodically. That rate was about five to six Spanish dollars to one Pound Sterling just prior to the Revolutionary War. I will defer to historians of monetary policy for exact figures at various times. Suffice it to say that colonial merchants like John Hancock and financiers were acutely aware of such rates of exchange and their gyrations.
People were not squeamish about cutting up Spanish dollars to make change when minor coins were in short supply. This probably delighted the coin shavers whose nefarious business was otherwise curtailed by Sir Isaac Newton. Half, quarter, and eighth parts of the Spanish dollars were in frequent use. Each eighth was colloquially called a bit. 'Two bits' survives in modern slang. These derived from the same coveted Spanish pieces of eight of pirate lore. Roughly the value of an English shilling in the Revolutionary era, two bits assumed the value of 25 cents during the early American Republic. Spanish milled dollars and their derivatives were legal tender in the United States until 1857.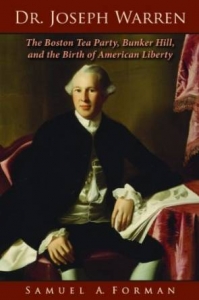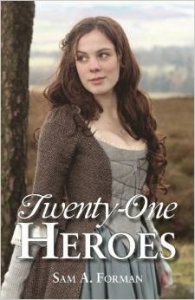 Sam Forman is the modern biographer of Dr. Joseph Warren (Pelican, 2012). The Continental Dollar makes a cameo appearance in his upcoming historical romance novel Twenty-One Heroes (Pelican, Fall 2015), where liberty is a seductive principle for young Revolutionary Americans.