So… last week I was coming up with a new funny strip that I could post after we (inevitably) lost the Cybils Category we're nominated for. (So optimistic, I know.) The punch line was going to be a new tagline for the comic: "The Dreamer: Always a Bridesmaid, Never a Bride." And then I got an email from Bob Corby… telling me that we had won the SPACE award! Ruins my joke, totally, but I have to admit, winning feels better. :)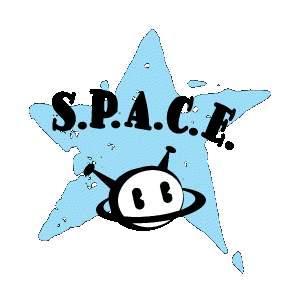 The Dreamer never actually wins anything! Until now! How cool is that!? Do you remember when I went to SPACE last year? It's the Small Press and Alternative Comics Expo here in Columbus, Ohio. I guess being with IDW might not qualify us as "small press," but The Dreamer is definitely an "alternative comic," that's for sure! It was a really fun show, a lot different than the bigger shows I go to, but it was so encouraging to see all the guys making comics just because they love to. And they were spotlighted at SPACE, not shoved off into a dark corner of the show called "artist alley." If you're a webcomic or a small press guy, you should try to make it- April 24th & 25th. I'll be there! Book your table soon– I talked to Bob Corby last week and he suspects that the show will sell out again this year.
In other news, I keep forgetting to mention this, AOL's ParentDish covered The Dreamer! Tom Henderson, one of their journalists, called me up for an interview a few months ago, and in all honesty, it was the most interesting interview I'd ever done. We talked a lot about modern politics verses 18th century politics, and how every group under the sun will claim that the Founders would have agreed with their party/group today by pulling one or two quotes out of context, and what I thought about all of that. Most of that sort of thing didn't make it into the article, but my friend Asha was at my house while I did the interview, and when I got off the phone, I said, "that was the best conversation I've had in as long as I can remember!" I think in part because Tom is an intelligent guy, but also because most of the time when people "interview" me, it's just a set of questions for me to fill out via email, not a conversation that can develop organically. Anyway, I'm rambling, but it was a lot of fun.
Finally, the Comic Creators Alliance's final total was over $10,000! Thanks everyone!!